---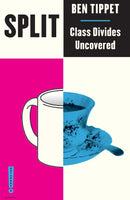 by Ben Tippet
Pluto Press
3/20/2020, paperback
SKU: 9780745340210
How can we make sense of a world where we have both too many billionaires and too many foodbanks? We're supposed to go to university, forge a career, get wealthier, buy a house - but why is that so hard for most of us to achieve?
Split makes sense of our world by looking at class society - delving into the deep-rooted economic inequalities that shape our lives. From the gig economy, rising debt and the housing crisis that affects the majority of people, to the world of tax havens and unfair inheritance that affect the few... Now is the time to fight back against the 1%.
Part of Pluto Press's Outspoken series.
Reviews:
"Neoliberal ideology hinges on the claim that class no longer matters - but as inequalities rise to unprecedented extremes, class divisions are now more prominent than ever. Split is packed with fresh insights into how class structures our world, and what we can do to build a fairer economy" - Jason Hickel
"This book is essential reading for making sense of society, digging into the realities of class for young people today. It shows how deeply Britain is shaped by class, while also charting out ways people can collectively change this" - Jamie Woodcock
About the Author:
Ben Tippet is an educator, activist, and writer. He is currently doing a PhD at the University of Greenwich, researching the causes of wealth inequality in the UK. He is a researcher for The Transnational Institute and has written for Novara, Strike! and Economy.