---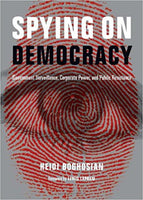 by Heidi Boghosian
City Lights Books
2013, paperback
SKU: 9780872865990
Personal information contained in your emails, phone calls, GPS movements and social media is a hot commodity, and corporations are cashing in by mining and selling the data they collect about our private lives. Spying on Democracy reveals how the government acquires and uses such information to target those individuals and/or groups it deems threatening.
Reviews:
"Heidi Boghosian's Spying on Democracy is the answer to the question, 'if you're not doing anything wrong, why should you care if someone's watching you?' It's chock full of stories about how innocent people's lives were turned upside-down by public and private sector surveillance programs. But more importantly, it shows how this unrestrained spying is inevitably used to suppress the most essential tools of democracy: the press, political activists, civil rights advocates and conscientious insiders who blow the whistle on corporate malfeasance and government abuse." --Michael German, Senior Policy Counsel, ACLU and former FBI agent
About the Author:
Heidi Boghosian is the Executive Director of the National Lawyers Guild and oversees the legal defense of protesters and individuals targeted by the government. She co-hosts the program "Law and Disorder" based out of Pacifica radio network's WBAI, New York, and is broadcast to more than 25 states on over 42 stations. Selected writings by Boghosian include Punishing Protest, Applying Restraints to Private Police, and The Assault on Free Speech, Public Assembly, and Dissent. Her books reviews have appeared in The Federal Lawyer and the New York Law Journal.