---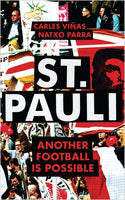 by Carles Viñas and Natxo Parra
Pluto Press
10/20/2020, paperback
SKU: 9780745340906
FC St. Pauli is a soccer club unlike any other. Encompassing music, sport and politics, its fans welcome refugees, fight fascists and take a stand against all forms of discrimination. This book goes behind the skull and crossbones emblem to tell the story of a soccer club rewriting the rulebook.
Since the German club's beginnings in Hamburg's red-light district, the chants, banners and atmosphere of the stadium have been dictated by the politics of the streets. Promotions are celebrated and relegations commiserated alongside social struggles, workers' protests and resistance to Nazism. In recent years, people have flocked from all over the world to join the Black Bloc in the stands of the Millerntor Stadium and while in the 1980s the club had a small DIY punk following, now there are almost 30,000 in attendance at games with supporters across the world.
In a sporting landscape governed by corporate capitalism, driven by revenue and divorced from community, FC St. Pauli demonstrate that another football is possible.
About the Authors:
Carles Viñas has published several books including Skinheads a Catalunya (2004), El Mundo Ultra (2005) and Tolerancia Zero (2006). His researches sports extremism.
Natxo Parra is a labour lawyer and cooperative partner. He is co-author of 'The Concept of Radicalization' in Jihadist Islam (Tirant lo Blanch, 2015).