---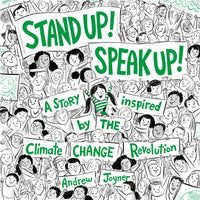 by Andrew Joyner
Schwartz & Wade
10/6/2020, hardcover
SKU:  9780593301586
From a #1 New York Times bestselling illustrator, and the creator of The Pink Hat, comes a timely picture book about a young girl's mission to inspire others to help the planet!

Celebrate young climate change activists in this charming story about an empowered girl who shows up, listens up, and ultimately, speaks up to inspire her community to take action against climate change. After attending a climate march, a young activist is motivated to make an effort and do her part to help the planet... by organizing volunteers to work to make green changes in their community, from cleaning a lake, to planting trees, to making composting bins, to hosting a clothing swap and more! Here is an uplifting picture book that is an important reminder that no change is too small--and no person is too young--to make a difference.
With simple text and lively illustrations, Andrew Joyner has given young children a timely story about activism, community, and hope.
Reviews:
" This book could change lives, and maybe the world." - School Library Journal
About the Author:
Andrew Joyner is the illustrator and author of numerous children's books, including the #1 New York Times Bestseller , Dr. Seuss's The Horse Museum, The Pink Hat, The Hair Book by Graham Tether, Duck and Hippo in the Rainstorm by Jonathan London, and The Terrible Plop: A Picture Book by Ursula Dubosarsky. He also wrote and illustrated the Boris chapter book series about an adventure-seeking warthog. His books are now published in more than twenty-five countries. He lives with his wife on the Fleurieu Peninsula in South Australia. Visit him on the Web at andrewjoyner.com.au.