---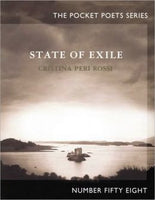 by Cristina Peri Rossi
Translations and Introduction by Marylin Buck
City Lights Books
SKU: 9780872864634
Considered a leading light of the "Latin-American Boom" generation, Cristina Peri Rossi was born in Montevideo, Uruguay. She was forced to leave her country at the age of thirty-one when her work was banned and her life was threatened by a repressive military dictatorship, and in 1972 she moved to Spain, where she still resides.
This collection of poems, written during her journey to Spain and over the first years of her self-exile, was so personal that it remained unpublished for almost thirty years. State of Exile is infused with the tremendous sense loss and alienation, the terrible doubt, sorrow and remorse that come with the abandonment of one's country, family and friends. And yet, the work is inspired, both by the knowledge that survival is a political, social and human imperative, and by the creative process that occurs when one searches for new reference points, new family and new relationships in the face of persistent nostalgia. In a world in which so many have been forced into exile, both political and economic, these poems bear witness and offer hope.
The poems are accompanied here by two brilliant essays on exile, one by Peri Rossi, written upon their Spanish publication in 2003, and the other by translator Marilyn Buck, an American political prisoner, exiled in her own country.
Praise for State of Exile:
"State of Exile is a haunting work that sat for decades, awaiting, like cicadas, its proper season. That time is now." -- Mumia Abu-Jamal
"These poems will break your heart. And then mend what was broken with a beauty that is sad and bitter and tender. What we need in these times of dislocation and loss." -- Ariel Dorfman, author of Death and the Maiden and Heading South, Looking North
"In this fierce and melancholy tale of one woman's displacement and exile, we discover the heartbreakingly contemporary narrative of all refugees, building anew, grafting fresh languages and tastes onto shattered separations and sorrow, learning again to love. Bringing us this vanished poetry of Christina Peri Rossi and making it her own, is translator Marilyn Buck, herself an internal exile bound by prison walls, but whose spirit lifts us free." -- Bernardine Dohrn, co-author of Race Course: Against White Supremacy
Cristina Peri Rossi is the author of 37 works, including Ship of Fools. She lives in Barcelona, Spain.
Marilyn Buck was a political activist in the 1970s. She served 33 of an 80 year prison sentence for her participation in the 1979 prison escape of Assata Shakur, the 1981 Brink's robbery and the 1983 U.S. Senate bombing. She was released on July 15, 2010, less than a month before her death at age 62 from cancer.