---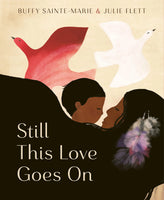 by Buffy Sainte-Marie, illustrated by Julie Flett
Greystone Kids
9/27/2022, hardcover
SKU: 9781771648073
From Cree-Métis artist Julie Flett and Academy Award-winning icon Buffy Sainte-Marie comes a celebration of Indigenous community, and the enduring love we hold for the people and places we are far away from.
Based on Sainte-Marie's song of the same name, Still This Love Goes On combines Flett's breathtaking art with vivid lyrics to craft a stunning portrait of a Cree worldview. At the heart of this picture book is a gentle message about missing our loved ones, and the promise of seeing each other again.
This gem of a picture book features:
Sheet music of Buffy Sainte-Marie's beloved song
Notes from Sainte-Marie and Flett about their inspiration for the song and illustrations
Brimming with love for community and the land, Still This Love Goes On is destined to be read and sung for generations.
Target age: 4 to 8
Reviews:
"Highly recommended. If Still This Love Goes On is not on your must-buy list yet, put it there right now. Better yet, order it, right now! ... A magnificent gift to us all." -- American Indians in Children's Literature
"This ode to Indigenous culture and the deeply rooted experience of reservation life speaks to the experience of holding a place dear throughout life's seasons... hinting at a love for and connection to home that "goes on and on"... Encourages readers to think about the people and places you love most in your own life." -- Publishers Weekly
"A love letter to family, home, and Indigenous traditions." -- Kirkus
About the Contributors:
Buffy Sainte-Marie is a world-renowned and Academy Award-winning Cree singer-songwriter, activist, educator, and visual artist. Her other books for kids include Hey Little Rockabye, illustrated by Ben Hodson, and Tâpwê and the Magic Hat.
Julie Flett is a Cree-Métis author, illustrator, and artist who has received numerous awards for her books, including two Governor General's Awards and the American Indian Library Association Award. Her work has been reviewed widely, including in the New York Times, the Globe and Mail, and Publishers Weekly. Her books Birdsong and We All Play, also published by Greystone Kids, earned multiple starred reviews and appeared on many best of the year lists.