---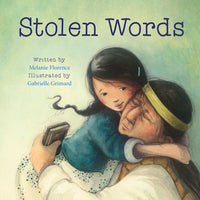 by Melanie Florence, Illustrated by Gabrielle Grimard
Second Story Press
9/5/2015, hardcover
SKU: 9781772600377
The story of the beautiful relationship between a little girl and her grandfather.
When she asks her grandfather how to say something in his language, Cree, he admits that his language was stolen from him when he was a boy. The little girl then sets out to help her grandfather find his language again. This sensitive, beautifully illustrated picture book explores the intergenerational impact of Canada's residential school system, which separated young Indigenous children from their families.
About the Author:
Melanie Florence is a writer of Cree and Scottish heritage based in Toronto. She was close to her grandfather as a child, a relationship that sparked her interest in writing about Indigenous themes and characters. She is the author of Missing Nimama, which won the 2016 TD Canadian Children's Literature Award and is a Forest of Reading Golden Oak Finalist. Her other books include Righting Canada's Wrongs: Residential Schools and the teen novels He Who Dreams, The Missing, One Night, and Rez Runaway.
Gabrielle Grimard has been drawing since she was young. Her passion for drawing and painting led her to pursue studies in fine arts and arts education at Concordia University. After she had her first child, she began her career as an illustrator. She moved from Montreal to Waterville, Quebec, where she now lives with her two children, several chickens and her husband, who builds wooden boats. They share an old barn as their artists' studio.