---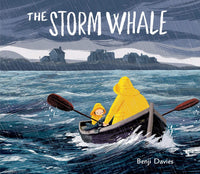 by Benji Davies
Henry Holt & Company
09/20/2014, hardcover
SKU: 9780805099676
Every day, in a house by the sea, a little boy watches his father leave for a long day's work. One night, a great storm washes a small whale onto the beach. The boy discovers the whale is a good listener. The father discovers the boy is lonely. Together, they return the whale to the sea. And from that day on, the boy learns that the father can be a good listener too, in Benji Davies's heartwarming tale, The Storm Whale.
Target age: 4 to 8
Reviews:
"A quietly affecting and visually striking book." --The Horn Book
"A gentle, atmospheric father and son tale, this will draw kids who appreciate a touch of mysticism and the parent-kid adventure." -- BCCB
"Charming." -- School Library Journal
"This imaginative, offbeat and original tale, lightly dusted with believable magic, perfectly captures a generous child's loyalty and dedication and ends with comfort and subtlety... A selection children will embrace and come back to time and time again." -- Kirkus Reviews

"Deeply empathic storytelling is matched by crisp, evocative scenes of coastal life, from the ramshackle, weathered home where Noi and his father live to the endless expanse of the ocean at night." -- Publisher's Weekly
About the Author:
Benji Davies is the author and illustrator of The Storm Whale. As a child, he was often found painting at the kitchen table... a habit he has continued into adulthood. He lives in London with his wife, Nina.