---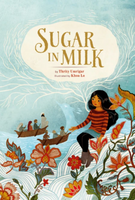 by Thrity Umrigar, Illustrated by Khoa Le
Running Press Kids
10/6/2020, hardcover
SKU: 9780762495191
When I first came to this country, I felt so alone.
A young immigrant girl joins her aunt and uncle in a new country that is unfamiliar to her. She struggles with loneliness, with a fierce longing for the culture and familiarity of home, until one day, her aunt takes her on a walk. As the duo strolls through their city park, the girl's aunt begins to tell her an old myth, and a story within the story begins.
A long time ago, a group of refugees arrived on a foreign shore. The local king met them, determined to refuse their request for refuge. But there was a language barrier, so the king filled a glass with milk and pointed to it as a way of saying that the land was full and couldn't accommodate the strangers. Then, the leader of the refugees dissolved sugar in the glass of milk. His message was clear: Like sugar in milk, our presence in your country will sweeten your lives. The king embraced the refugee, welcoming him and his people. The folktale depicted in this book was a part of author Thrity Umrigar's Zoroastrian upbringing as a Parsi child in India, but resonates for children of all backgrounds, especially those coming to a new homeland.

Target age: 5 to 8
Reviews:
"Lush illustrations and a strong message of hope and perseverance make this a standout title for all collections." -- School Library Journal, starred review
"An engaging, beautiful, and memorable book." -- Kirkus Reviews, starred review
"Sugar in Milk powerfully demonstrates how a simple story can radically alter one's perspective for the better. It's a timely exploration of timeless themes of acceptance and what it means to call a place home." -- BookPage, starred review

About the Contributors:
Thrity Umrigar is the author of the bestseller The Space Between Us and its recently released sequel, The Secrets Between Us, as well as many other acclaimed novels. Her debut picture book, When I Carried You in My Belly, was published with RP Kids in 2017. She lives outside Cleveland, OH.
Khoa Le is an illustrator, graphic designer, and author based in Ho Chi Minh, Vietnam. She has been an illustrator for many picture books, as well as author of a few. Khoa has also participated in art exhibitions throughout Vietnam and Asia. She currently lives with her four cats. She has a passion for traveling and discovering different cultures and art.