---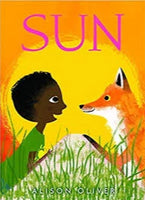 Alison Oliver
Clarion Books
6/11/2019, hardcover
SKU: 9781328781628
Sun, a sporty boy, reconnects with his artistic side with help from a fox in this gorgeous, joyful celebration of creativity that offers an expanded and appealing model for boyhood. Full color.
Sun loves everything about playing soccer: the cheers, the competition, the winning. But he feels as though something is missing. When he sees his younger brother spread out on the floor, creating a wondrous piece of art, he remembers how much he loves to make things. He goes to the beach to think, and it's there that a magical encounter with a fox helps him reconnect with a long-forgotten source of happiness.

Simple words and stunning illustrations pair to show us there is more than one way to be a boy...and remind us of the deep satisfaction of creativity.
About the Author:
Alison Oliver is the author-illustrator of Moon and the illustrator of more than 30 BabyLit board books. She is also author-illustrator of the Be Bold, Baby! board book series, featuring biographies of strong, inspiring women. Alison lives in New York City, where she also runs a design studio called Sugar.