---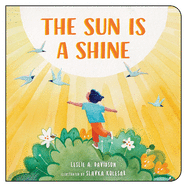 by Leslie A. Davidson, Illustrated by Slavka Kolesar
Orca Books Publisher
4/13/2021, board book
SKU:  9781459826267
A gentle and poetic board book about weather systems across the world. Young readers will enjoy meeting children from around the globe and experiencing the phenomena of the sky as each child thanks Mother Earth for bringing the sun, wind, rain, snow, lightning and thunder to them. Magical illustrations enhance evocative text in a delightful blend of cultural diversity, geography, science, rich language and gratitude .
The sun is a shine, that wakens the day, sparkles the dew, makes everything new. Miigwetch, merci, golden Sun. Thank you, thank you, shining one.
Reviews:
"Absolutely delightful from start to finish...This is truly a wonderful book and well-worth adding to any home, classroom, or library collection. Highly Recommended."-- "CM: Canadian Review of Materials"
About the Contributors:
Leslie A. Davidson is a retired teacher, a grandmother and a writer. She has always loved words and the power of well-told stories. Her bestselling book In the Red Canoe was shortlisted for the Shining Willow Award and has been translated into French. Leslie lives with her family in Revelstoke, British Columbia.
Slavka Kolesar studied figurative painting at the Academy of Realist Art in Toronto and holds a BFA in visual studies & art history from the University of Toronto. She has illustrated many books including La Légende de Carcajou, which was a finalist for the Governor General's Award. Slavka was the 2017 TD Summer Reading Club illustrator. She lives in Fernie, British Columbia.