---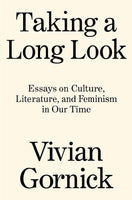 by Vivian Gornick
Verso
3/16/2021, hardcover
SKU:  9781788739771
One of our most vital and incisive writers on literature, feminism, and knowing one's self
For nearly fifty years, Vivian Gornick's essays, written with her characteristic clarity of perception and vibrant prose, have explored feminism and writing, literature and culture, politics and personal experience. Drawing writing from the course of her career, Taking a Long Look illuminates one of the driving themes behind Gornick's work: that the painful process of understanding one's self is what binds us to the larger world.
In these essays, Gornick explores the lives and literature of Alfred Kazin, Mary McCarthy, Diana Trilling, Philip Roth, Joan Didion, and Herman Melville; the cultural impact of Silent Spring and Uncle Tom's Cabin; and the characters you might only find in a New York barber shop or midtown bus terminal. Even more, Taking a Long Look brings back into print her incendiary essays, first published in the Village Voice, championing the emergence of the women's liberation movement of the 1970s.
Alternately crackling with urgency or lucid with insight, the essays in Taking a Long Look demonstrate one of America's most beloved critics at her best.
Reviews:
"Vivian Gornick is one of the most important essayists of all time. Whether writing on the self, feminism, isolation or politics, she is urgent, sharp-eyed and vital. A superb collection." --Sinéad Gleeson, author of Constellations
"We all talk the talk about public intellectuals nowadays. Vivian Gornick walks the walk. The essays in Taking a Long Look could not be more direct, more authoritative, more alive with the pleasures of discovery or alert to the ambiguities of argument. Whether writing literary or political criticism, memoir, or feminist polemic, her mastery is assured." --George Scialabba, author of How to Be Depressed
About the Author:
Vivian Gornick is a writer and critic whose work has received two National Book Critics Circle Award nominations and been collected in The Best American Essays 2014. Growing up in the Bronx among communists and socialists, Gornick became a legendary writer for Village Voice, chronicling the emergence of the feminist movement in the 1970s, and a respected literary critic. Her works include the memoirs Fierce Attachments--ranked the best memoir of the last fifty years by the New York Times-- The Odd Woman and the City, and Unfinished Business: Notes of a Chronic Re-Reader, as well as the classic text on writing, The Situation and the Story.