---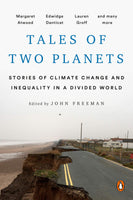 Edited by John Freeman

Penguin Books
08/04/2020, paperback
SKU: 9780143133926
Featured on the New York Times' climate change reading list
One of Elle's Best Books of 2020!
Building from his acclaimed anthology Tales of Two Americas, beloved writer and editor John Freeman draws together a group of our greatest writers from around the world to help us see how the environmental crisis is hitting some of the most vulnerable communities where they live.
In the past five years, John Freeman, previously editor of Granta, has launched a celebrated international literary magazine, Freeman's, and compiled two acclaimed anthologies that deal with income inequality as it is experienced. In the course of this work, one major theme came up repeatedly: Climate change is making already dire inequalities much worse, devastating further the already devastated. But the problems of climate change are not restricted to those from the less developed world.
Galvanized by his conversations with writers and activists around the world, Freeman engaged with some of today's most eloquent storytellers, many of whom hail from the places under the most acute stress--from the capital of Burundi to Bangkok, Thailand. The response has been extraordinary. Margaret Atwood conjures with a dystopian future in a remarkable poem. Lauren Groff whisks us to Florida; Edwidge Danticat to Haiti; Tahmima Anam to Bangladesh; Yasmine El Rashidi to Egypt, while Eka Kurniawan brings us to Indonesia, Chinelo Okparanta to Nigeria, and Anuradha Roy to the Himalayas in the wake of floods, dam building, and drought. This is a literary all-points bulletin of fiction, essays, poems, and reportage about the most important crisis of our times.
Reviews:
"Tales of Two Planets is not soothing. It is not simple or stable, and it refuses easy pieties. You may struggle to make sense of the voices, to fit them into your own overarching narrative, and you will fail because there is no single narrative -- these are tales, not a tale, and they force you to ask instead of answering, to continue asking, each tale an answer you've probably never heard. When writing can make you do that, at least for a moment, it's another reason for hope." -- Los Angeles Review of Books
"When the introduction has more content and brilliance than most books, you know you are in for a treat in the remaining pages.... Read it. Share it. Let it change the way you relate to our only home." -- Orion Magazine
"If you've only ever read the headlines about climate change wreaking its worst havoc on the world's most vulnerable, Tales of Two Planets is likely to shock you. For everyone else, it will be a humanization of the broad trends you've read about, rendered with poignant specificity by writers who have actually lived them." -- Wired

"Full of such varied writing that there's no opportunity for cliché to take hold... A reminder that excellent environmental writing can come from literally anywhere." -- The New Republic
About the Editor:
John Freeman is the editor of Freeman's, a literary annual of new writing, and executive editor of Literary Hub. His books include How to Read a Novelist and Dictionary of the Undoing, as well as Tales of Two Americas, an anthology about income inequality in America, and Tales of Two Cities, an anthology of new writing about inequality in New York City. He is also the author of two collections of poems, Maps and The Park. His work is translated into more than twenty languages, and has appeared in The New Yorker, The Paris Review, and The New York Times. The former editor of Granta, he teaches writing at New York University.