---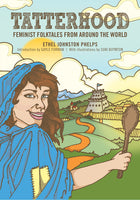 by Ethyl Johnston Phelps, illustrated by Suki Boynton
Feminist Press
2016, hardcover
SKU: 9781558619296
From Japan to Norway, Scotland to Sudan, Tatterhood brings readers twelve folk tales--and twelve women whose cunning, hard work, and physical strength are celebrated in each story. A family of three women teaches a burly man how to wrestle, a girl battles a fearsome bear, and a young mother rescues her village from an elephant's stomach.
Also included in the series are Kamala and Sea Girl.
About the Author:
Ethel Johnston Phelps (1914-1984) held a master's degree in Medieval Literature, co-edited a Ricardian journal, and published several articles on fifteenth-century subjects. She compiled two anthologies of feminist folk tales from around the world, Tatterhood and The Maid of the North.