---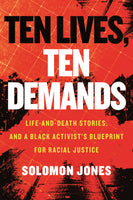 by Solomon Jones
Beacon Press
1/10/2023, paperback
SKU: 9780807007297
Told through the powerful stories of Black lives that were ravaged by racism, this manifesto holds 10 demands to rectify racial injustice
Told through his perspective as an activist, acclaimed commentator Solomon Jones tells the stories of real people whose lives and deaths pushed the Black Lives Matter movement forward. He explains how each act of violence was incited by specific instances of structural racism, and details concrete and actionable strategies to address crimes committed by our "justice" system.
These stories and strategies are a critical resource for social justice activists looking to further their anti-racist education. These 10 demands form an actionable plan that is necessary to repair our racist past, change the racist present, and bring justice to the future:
1. George Floyd: Pay financial reparations to Black communities that have been damaged by legalized racism.
2. Michael Brown: Use consent decrees to reform police departments that demonstrate a "pattern or practice" of racism and police brutality.
3. Hassan Bennett: Offer compensation for all those who are wrongfully imprisoned.
4. Breonna Taylor: Require functioning body cameras and ban no-knock warrants.
5. Eric Garner: All police disciplinary and dismissal records must be made public.
6. Alton Sterling: Change federal law to allow prosecution of flagrant lawbreakers within police departments.
7. Tamir Rice: Use independent prosecutors to eliminate prosecutorial conflicts of interest.
8. Trayvon Martin: Eliminate stand-your-ground laws.
9. Deborah Danner: Defund the police and move funds to trained social workers, mental health professionals, and conflict resolution specialists.
10. Sandra Bland: End racial profiling.
Reviews:
"Jones is a naturally compelling writer . . . A persuasive, neatly packaged Black Lives Matter primer." -- Kirkus Reviews
"A brisk and impassioned call for America to 'right the wrongs of a past that is littered with laws meant to subjugate African Americans.' This cri de coeur rings loud and true."
-- Publishers Weekly
About the Author:
Solomon Jones is an award-winning columnist for the Philadelphia Inquirer and morning host for WURD radio in Philadelphia. He is also a host for Classix 107.9 and a blogger for NPR affiliate WHYY. Jones is an Essence best-selling author who has been featured on NPR's Morning Edition, Nightline, and CNN. In 2019, Jones formed the Rally for Justice Coalition with a multitude of civil rights organizations. The coalition's efforts resulted in the firing of over a dozen Philadelphia police officers who espoused racist rhetoric online.