---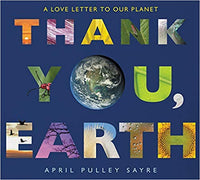 by April Pulley Sayre
Greenwillow Books
2/20/2018, hardcover
SKU: 9780062697349
Acclaimed children's book author and photographer April Pulley Sayre's love letter to Earth is a stunning exploration of the beauty and complexity of the world around us. Remarkable photographs and a rich, layered text introduce concepts of science, nature, geography, biology, poetry, and community. April Pulley Sayre, award-winning photographer and acclaimed author of more than sixty-five books, introduces concepts of science, nature, and language arts through stunning photographs and a poetic text structured as a simple thank-you note. Touching on subjects from life cycles to weather, colors, shapes, and patterns, this is an ideal resource for science and language art curriculums and a terrific book for bedtime sharing. Thank You, Earth is a great choice for Earth Day celebrations, as well as family and group read-alouds.
Includes backmatter with kid-friendly ideas for conservation projects information about the photographs, and additional resources.
Reviews:
"Colorful photographs and large, bold text fulfill the title's promise. The photographs are top-notch...Little ones will enjoy the verses and photographs at face value, while elementary school-aged students may well read the simple--although far from simplistic--verses right through to the weightier prose at the end."--Kirkus Reviews
"The carefully crafted verse, with its rhymes and repeated sounds, should be a pleasure to read aloud--Sayre's skillful use of enjambment is notable, too. ...A splendid marriage of poetry and photography."--School Library Journal (starred review)
"[Sayre] uses vivid, full-color photos paired with simple lines that poetically and artistically tie to the images...The photographs truly make the book pop, and Sayre's adoration for her subject shines through. This would be a great addition to an ecologically themed storytime."--Booklist
"Sayre offers a powerful expression of gratitude for all that planet Earth has to offer. Vivid nature photography accompanies the prayerlike text."--Publishers Weekly
About the Author:
April Pulley Sayre is the award-winning creator of numerous books for children, including the acclaimed Raindrops Roll, Best in Snow, and Full of Fall. She has traveled to many places to observe, investigate, and photograph the world. The stunning photographs in Cityscape illuminate basic concepts of art, science, design, engineering, math, construction, and language arts for budding engineers, artists, architects, construction workers, and poets alike! April Pulley Sayre lives in South Bend, Indiana.