---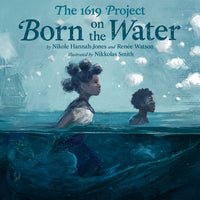 by Nikole Hannah-Jones and Renée Watson, Illustrated by Nikkolas Smith
Kokila
11/16/2021, hardcover
SKU: 9780593307359
The 1619 Project's lyrical picture book in verse chronicles the consequences of slavery and the history of Black resistance in the United States, thoughtfully rendered by Pulitzer Prize-winning journalist Nikole Hannah-Jones and Newbery honor-winning author Renée Watson.

A young student receives a family tree assignment in school, but she can only trace back three generations. Grandma gathers the whole family, and the student learns that 400 years ago, in 1619, their ancestors were stolen and brought to America by white slave traders.
But before that, they had a home, a land, a language. She learns how the people said to be born on the water survived.
And the people planted dreams and hope,
willed themselves to keep
living, living.
And the people learned new words
for love
for friend
for family
for joy
for grow
for home.
With powerful verse and striking illustrations by Nikkolas Smith, Born on the Water provides a pathway for readers of all ages to reflect on the origins of American identity.
Target age: 7 to 10
About the Contributors:
Nikole Hannah-Jones is a Pulitzer Prize-winning reporter covering racial injustice for The New York Times Magazine and creator of the landmark 1619 Project. In 2017, she received a MacArthur Foundation Fellowship, known as the Genius Grant, for her work on educational inequality. She has also won a Peabody Award, two George Polk Awards, three National Magazine Awards, and the 2018 John Chancellor distinguished journalism award from Columbia University. In 2016, Nikole co-founded the Ida B. Wells Society for Investigative Reporting, a training and mentorship organization geared towards increasing the numbers of investigative reporters of color.

Renée Watson is a New York Times bestselling author. Her young adult novel, Piecing Me Together (Bloomsbury, 2017) received a Newbery Honor and Coretta Scott King Award. Her books for young readers include Harlem's Little Blackbird: The Story of Florence Mills, which was nominated for an NAACP Image Award, and Ways to Make Sunshine, which received the SCBWI Golden Kite Award. She has given readings and lectures at many renown places including the United Nations, the Library of Congress, and the U.S. Embassy in Japan and New Zealand. Renée is on the Council of Writers for the National Writing Project and is a member of the Academy of American Poets' Education Advisory Council. Renée grew up in Portland, Oregon, and splits her time between Portland and New York City.

Nikkolas Smith is a Houston, Texas-born Artivist, picture book author, and Hollywood film illustrator. He is the author/illustrator of The Golden Girls of Rio, nominated for an NAACP Image Award, My Hair Is Poofy And That's Okay, and World Cup Women. As a Black illustrator, Nikkolas is focused on creating captivating art that can spark important conversations around social justice in today's world and inspire meaningful change. Many of his viral, globally shared and published sketches are included in his book Sunday Sketch: The Art of Nikkolas. Nikkolas also speaks on his Artivism at conferences, workplaces, and schools around the world, and leads workshops in digital painting, character, and movie poster design. He lives in Los Angeles, California.