---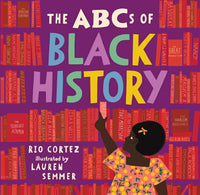 by Rio Cortez, Illustrated by Lauren Semmer
Workman Publishing
12/8/2020, hardcover
SKU: 9781523507498
B is for Beautiful, Brave, and Bright! And for a Book that takes a Bold journey through the alphabet of Black history and culture.
Letter by letter, The ABCs of Black History celebrates a story that spans continents and centuries, triumph and heartbreak, creativity and joy.
It's a story of big ideas--P is for Power, S is for Science and Soul. Of significant moments--G is for Great Migration. Of iconic figures--H is for Zora Neale Hurston, X is for Malcom X. It's an ABC book like no other, and a story of hope and love.
In addition to rhyming text, the book includes back matter with information on the events, places, and people mentioned in the poem, from Mae Jemison to W. E. B. Du Bois, Fannie Lou Hamer to Sam Cooke, and the Little Rock Nine to DJ Kool Herc.
Target age: 5 to 12
Reviews:
"An impressive array of names, events, and concepts from Black history are introduced in this alphabet book for early-elementary readers... The rhyming verses are light on the tongue, making the reading smooth and soothing. The brightly colored, folk art-style illustrations offer vibrant scenes of historical and contemporary Black life..." - Kirkus Starred Review
"Poet Cortez pens an informative ode to Black history in her children's book debut--for each letter of this abecedarian, she offers lightly alliterative, rhyming text that illuminates historically significant concepts and figures...A particularly resonant spread shows a crowd holding signs that reflect both historical and current events, including "We March with Selma" and "We Can't Breathe," demonstrating to young readers how past occurrences affect the present... A richly accessible resource for anyone seeking to celebrate Black visionaries." - Publishers Weekly
About the Contributors:
Rio Cortez is a writer and Pushcart-nominated poet who has received fellowships from Poet's House, Cave Canem, and CantoMundo foundations. Her work has appeared or is forthcoming in the Los Angeles Review of Books, The New Yorker, and Prairie Schooner, among others. Rio writes and lives in Harlem where she works as a bookseller and buyer for the Schomburg Center for Research in Black Culture.
Lauren Semmer is an artist, children's book illustrator, and designer. She studied drawing at St. Paul College of Visual Arts and art history at New York University. Lauren's bright and charming work is featured on everything from kid's wall art to children's apparel. She lives in Manhattan with her family.