---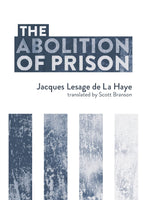 by Jacques Lesage de La Haye, Translated by Scott Branson
AK Press
7/13/2021, paperback
SKU:  9781849354202
The Abolition of Prison provides a reflection from a longtime prison abolitionist, psychoanalyst, and former prisoner on the history, theory, and practice of anti-prison activism in France and globally over the last fifty years. This book powerfully makes the case for the end of prisons, punishment, and guilt and, instead, suggests we work towards social change, care, collectivity. The book weaves together Lesage deLa Haye's own experiences--in prison, as a psychiatrist, and as a social theorist--with the simple argument that, if we take the reasons for prison and punishment at their word, we must evaluate the system as a complete failure. So then why continue to support it and funnel money into it?
Reviews:
The Abolition of Prison encapsulates Jacques Lesage de La Haye's four-decade long activism against the prison system in France and his anarchist perspectives on penal abolitionism. Jacques Lesage de La Haye brings together theoretical analysis and his inspiring personal journey as a criminalized youth turned into a psychologist with an extensive experience of alternative approaches to institutionalization. --Gwenola Ricordeau, author of For Them All: Women Against the Prison System (forthcoming from Verso)
About the Contributors:
Jacques Lesage de La Haye is a formerly incarcerated psychoanalyst, and the author of La Guillotine du sexe (Gender's execution). He broadcasts the radio show, "Ras les murs" ("Tear down the walls"), on Radio libertaire, and has been fighting carceral society for more than 50 years.
Scott Branson (they/them) is a writer, translator, community organizer, and teacher, based in North Carolina.