---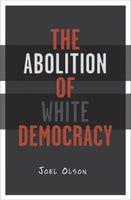 by Joel Olson
University of Minnesota Press
8/13/2004, paperback
SKU: 9780816642786
Offers a new way of understanding the tortured relationship between race and democracy in the United States
Joel Olson contends that, given the history of slavery and segregation in the United States, American citizenship is a form of racial privilege in which whites are equal to each other but superior to everyone else. To break this pattern, Olson suggests an "abolitionist-democratic" political theory that makes the fight against racial discrimination a prerequisite for expanding democratic participation.
Reviews:
"The Abolition of White Democracy is essential reading for all those seeking to realize the promise of democracy in America." - Noel Ignatiev, author of How the Irish Became White
About the Author:
Joel Olson (1967-2012) is assistant professor of political science at Northern Arizona University.