---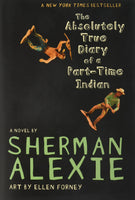 by Sherman Alexie
Little, Brown Books for Young Readers
04/01/2009, paperback
SKU: 9780316013697
Bestselling author Sherman Alexie tells the story of Junior, a budding cartoonist growing up on the Spokane Indian Reservation. Determined to take his future into his own hands, Junior leaves his troubled school on the rez to attend an all-white farm town high school where the only other Indian is the school mascot.
Heartbreaking, funny, and beautifully written, The Absolutely True Diary of a Part-Time Indian, which is based on the author's own experiences, coupled with poignant drawings by Ellen Forney that reflect the character's art, chronicles the contemporary adolescence of one Native American boy as he attempts to break away from the life he was destined to live.
With a forward by Markus Zusak, interviews with Sherman Alexie and Ellen Forney, and four-color interior art throughout, this edition is perfect for fans and collectors alike.
Target age: 12-17
Reviews:
"This is a gem of a book... may be [Sherman Alexie's] best work yet." -- New York Times
"[The] Native American equivalent of Angela's Ashes." -- Publishers Weekly
About the Author:
Sherman Alexie, National Book Award-winning author, poet, and filmmaker, is one of the most well-known and beloved literary writers of his generation. His works of fiction, including The Absolutely True Diary of a Part-Time Indian, Reservation Blues, and The Lone Ranger and Tonto Fistfight in Heaven, have received numerous awards and citations. He lives in Seattle. Like Thunder Boy Jr., Sherman was named for his father.