---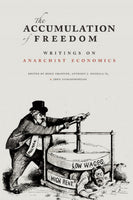 Edited by Deric Shannon, Anthony J. Nocella II, & John Asimakopaulos
AK Press
2012
SKU: 9781849350945
The only crisis of capitalism is capitalism itself. Let's toss credit default swaps, bailouts, environmental externalities and, while we're at it, private ownership of production in the dustbin of history. The Accumulation of Freedom brings together economists, historians, theorists, and activists for a first-of-its-kind study of anarchist economics. The editors aren't trying to subvert the notion of economics-they accept the standard definition, but reject the notion that capitalism or central planning are acceptable ways to organize economic life.
Praise for Accumulation of Freedom:
"The Accumulation of Freedom fills a vital need for beginning a serious dialogue about alternatives to capitalist globalization and the continuing ruthless exploitation of labor and natural resources. This is a comprehensive guide for all of us to think about how we might create not only a sustainable future, but one based on justice, community and freedom."-Benjamin Frymer, Project Censored
"This is an amazing, timely, and important book, providing a needed alternative perspective on the future, if we are to have one."-Roxanne Dunbar-Ortiz, author of Outlaw Woman
"This book addresses a broadening interest in anarchism - as both theory and politics - in the wake of the deepening economic and social crisis in the United States and elsewhere. It is a very timely collection of articles that boldly confronts the urgent need for a fundamental alternative to the existing bankrupt power structure."-Carl Boggs, author of Imperial Delusions
"Given the vast overburden of tomes delineating every theoretical nuance of 'free market,' mixed, and marxian economies, material addressing anarchist alternatives has always been rendered conspicuous by its absence. Accumulation of Freedom fills the void rather neatly, providing a broadly-framed and accessible survey of this crucially important field." -Ward Churchill, author
Contributors include Robin Hahnel, Iain McKay, Marie Trigona, Chris Spannos, Ernesto Aguilar, Uri Gordon, and more.