---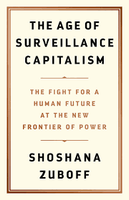 by Shoshana Zuboff
PublicAffairs
3/03/2020, paperback
SKU: 9781541758001
Shoshana Zuboff, named "the true prophet of the information age" by the Financial Times, has always been ahead of her time. Her seminal book In the Age of the Smart Machine foresaw the consequences of a then-unfolding era of computer technology.
Now, three decades later she asks why the once-celebrated miracle of digital is turning into a nightmare. Zuboff tackles the social, political, business, personal, and technological meaning of "surveillance capitalism" as an unprecedented new market form. It is not simply about tracking us and selling ads, it is the business model for an ominous new marketplace that aims at nothing less than predicting and modifying our everyday behavior--where we go, what we do, what we say, how we feel, who we're with.
The consequences of surveillance capitalism for us as individuals and as a society vividly come to life in The Age of Surveillance Capitalism's pathbreaking analysis of power. The threat has shifted from a totalitarian "big brother" state to a universal global architecture of automatic sensors and smart capabilities: A "big other" that imposes a fundamentally new form of power and unprecedented concentrations of knowledge in private companies--free from democratic oversight and control.
Reviews:
"My mind is blown on every page by the depth of Shoshana's research, the breadth of her knowledge, the rigor of her intellect, and finally by the power of her arguments. I'm not sure we can end the age of surveillance capitalism without her help, and that's why I believe this is the most important book of our time."-- Doc Searls, author of The Intention Economy, editor-in-chief, Linux Journal
"Zuboff is a strikingly original voice, simultaneously bold and wise, eloquent and passionate, learned and accessible. Read this book to understand the inner workings of today's digital capitalism, its threats to twenty-first century society, and the reforms we must make for a better tomorrow."-- Frank Pasquale, University of Maryland Carey School of Law, Author of The Black Box Society
"Shoshana Zuboff has produced the most provocative compelling moral framework thus far for understanding the new realities of our digital environment and its anti-democratic threats. From now on, all serious writings on the internet and society will have to take into account with The Age of Surveillance Capitalism."-- Joseph Turow, Robert Lewis Shayon Chair Professor, Annenberg School, University of Pennsylvania
"One of the most important criticisms of the power of Big Tech."-- Rana Foroohar, FINANCIAL TIMES
Author:
Shoshana Zuboff is the Charles Edward Wilson Professor emerita, Harvard Business School. She is the author of In The Age of the Smart Machine: the Future of Work and Power and The Support Economy: Why Corporations Are Failing Individuals and the Next Episode of Capitalism. She received her Ph.D. from Harvard University and her BA from the University of Chicago.