---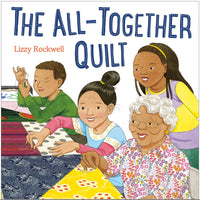 by Lizzy Rockwell
Alfred A. Knopf Books for Young Readers
10/27/2020, hardcover
SKU: 9780375822049
Quilters and crafters rejoice! This story of a community coming together to make a quilt is a heartwarming celebration of creativity and teamwork.
The kids and grown-ups at a community center begin with lots of colorful fabrics and an idea. Then step by step they make that idea a reality. They design, cut, stitch, layer, and quilt. It's the work of many hands, many hours, and many stories. And the result is something warm and wonderful they all can share.
Lizzy Rockwell is the artistic director and organizing force behind the Norwalk Community Quilt Project: Peace by Piece, and this book is inspired by all the people who have gathered over the years to teach and learn and to make something beautiful together.

Reviews:
The joy derived from working together to make something beautiful shines throughout the narrative. -- School Library Journa
Like pieces of a patchwork quilt, story and fact come together, reflecting the joy of a journey and the beauty of community friendship. -- The Horn Book
About the Author:
Lizzy Rockwell is an illustrator whose artwork can be seen in picture books, magazine, games from eeBoo, and in quilts. She is both the author and illustrator of The Busy Body Book: a Kid's Guide to Fitness, Good Enough to Eat: a Kid's Guide to Food and Nutrition; Hello Baby! and A Mammal is an Animal.