---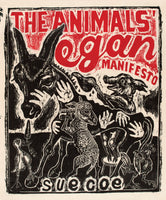 by Sue Coe
OR Books
3/16/2017, paperback
SKU: 9781682190746
Sue Coe's advocacy of animal rights is unmatched in its eloquence, forcefulness, and lasting impact. She does so with a combination of extraordinary images and few words. In her unstinting insistence on tolerance and love, Coe brings us to a life-affirming philosophy that values compassion over greed, community over self, and life over capital.
In 115 black-and-white woodcut illustrations for The Animals' Vegan Manifesto, Sue Coe unleashes an outraged cry for action that takes its rightful place alongside the other great manifestos of history. As a prize-winning artist, she bears witness to unspeakable crimes, and has long advocated that we human beings must take more responsibility for ourselves, our fellow species, and the planet. Her illustrations, in the tradition of Goya, Kollwitz, and Grosz, will be familiar to many; her paintings, drawings and prints have been exhibited in galleries and museum around the world, including New York's Museum of Modern Art.
Reviews:
"In the Vegan Manifesto, Sue Coe, human champion of rights for those whose voice most humans do not hear, has crafted a masterpiece: at once visually stunning and spiritually invigorating." —Dr. Michael Greger, author of How Not to Die
"Sue Coe is the most important and prolific political artist of our time. Her work explores and exposes every form of injustice suffered by both humans and nonhumans. With respect to the latter, her incisive eye—both trenchant and gentle—lays bare the profound immorality of animal exploitation and constitutes a clarion call to us all to reject it. Coe understands that the moral status of animals requires that we go vegan and no one who looks at the stunning work in this book will be able to disagree." —Gary L. Francione, Distinguished Professor of Law and Nicholas deB. Katzenbach Scholar of Law and Philosophy, Rutgers School of Law
About the Author:
Sue Coe grew up next to a slaughterhouse in Liverpool. She studied at the Royal College of Art in London and left for New York in 1972. Early in her career, she was featured in almost every issue of Art Spiegelman's groundbreaking magazine Raw, and has since contributed illustrations to the New York Times, the New Yorker, The Nation, Entertainment Weekly, Time, Details, The Village Voice, Newsweek, Rolling Stone, Esquire and Mother Jones, among other publications. Her previous books include Dead Meat (winner of the 1991 Genesis Award) and Cruel. Among her many awards are the Dickinson College Arts Award, the Lifetime Achievement Award from the Women's Caucus for Art, and a National Academy of Arts Award (2009).