---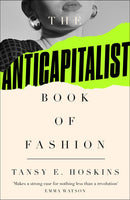 by Tansy E. Hoskins
Pluto Press
8/20/2022, paperback
SKU: 9780745346618
Fashion is political. From the red carpets of the Met Gala to online fast fashion, clothes tell a story of inequality, racism, and climate crisis. In The Anticapitalist Book of Fashion, Tansy E. Hoskins unpicks the threads of capitalist industry to reveal the truth about our clothes.
Fashion brands entice us to consume more by manipulating us to feel ugly, poor and worthless, sentiments that line the pockets of billionaires exploiting colonial supply chains. Garment workers on poverty pay risk their lives in dangerous factories, animals are tortured, fossil fuels extracted and toxic chemicals spread just to keep this season's collections fresh.
We can do better than this. Moving between Karl Lagerfeld and Karl Marx, The Anticapitalist Book of Fashion goes beyond ethical fashion and consumer responsibility showing that if we want to feel comfortable in our clothes, we need to reshape the system and ensure this is not our last season.
With a foreword by Andreja Pejić.
Reviews:
"A failure to imagine the end of capitalism goes hand-in-hand with a failure to imagine the end of fashion as a commodified sphere in which countless exploited workers labour so that the powerful can wear power-affirming garments. Hoskins' book does wonders to help its readers overcome both failures." --Yanis Varoufakis, economist
"Once you see the fashion industry through Hoskins' anti-capitalist lens what lies behind cannot be unseen." --Public Reading Rooms
"A controlled demolition, Hoskins uses facts to strip away the apparel trade's decorative exterior and then dynamites the foundations." --Monthly Review

About the Contributors:
Tansy E. Hoskins is an award winning author and journalist who investigates the global fashion industry. This work has taken her to Bangladesh, India, North Macedonia, and to the Topshop warehouses in Solihull. This is her third book.
Andreja Pejić is an activist, renowned model and actress. She has appeared on covers, starred in movies and changed our perception of transgender people.