---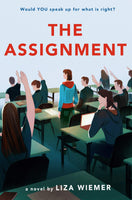 by Liza Wiemer
Delacorte Press
8/25/2020, hardcover
SKU: 9780593123164
Inspired by a real-life incident, this riveting novel explores discrimination and antisemitism and reveals their dangerous impact.
SENIOR YEAR. When an assignment given by a favorite teacher instructs a group of students to argue for the Final Solution, a euphemism used to describe the Nazi plan for the genocide of the Jewish people, Logan March and Cade Crawford are horrified. Their teacher cannot seriously expect anyone to complete an assignment that fuels intolerance and discrimination. Logan and Cade decide they must take a stand.
As the school administration addressed the teens' refusal to participate in the appalling debate, the student body, their parents, and the larger community are forced to face the issue as well. The situation explodes, and acrimony and anger result. What does it take for tolerance, justice, and love to prevail?
Target age: 13 to 17
Reviews:
"An important look at a critical moment in history through a modern lens showcasing the power of student activism. A good choice for fans of Angie Thomas's The Hate U Give and Nic Stone's Dear Martin. - School Library Journal
"This fast-paced, compelling story will inspire readers to stick to their principles and fight for what's right. A timely and necessary read." --Kip Wilson, author of White Rose
About the Author:
Liza Wiemer is an award-winning educator with over twenty years of experience. She is the author of two adult nonfiction books, as well as a young adult novel. She lives in Milwaukee with her family.