---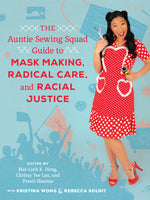 Edited by Mai-Linh K. Hong, Chrissy Yee Lau, and Preeti Sharma
University of California Press
11/2/2021, paperback
SKU: 9780520384002
The rise of the Auntie Sewing Squad, a massive mutual-aid network of volunteers who provide free masks in the wake of US government failures during the COVID-19 pandemic.
In March 2020, when the US government failed to provide personal protective gear during the COVID-19 pandemic, the Auntie Sewing Squad emerged. Founded by performance artist Kristina Wong, the mutual-aid group sewed face masks with a bold social justice mission: to protect the most vulnerable and most neglected.  
Written and edited by Aunties themselves, The Auntie Sewing Squad Guide to Mask Making, Radical Care, and Racial Justice tells a powerful story. As the pandemic unfolded, hate crimes against Asian Americans spiked. In this climate of fear and despair, a team of mostly Asian American women using the familial label "Auntie" formed online, gathered momentum, and sewed masks at home by the thousands. The Aunties nimbly made and funneled masks to asylum seekers, Indigenous communities, incarcerated people, farmworkers, and others disproportionately impacted by COVID-19. When anti-lockdown agitators descended on state capitals--and, eventually, the US Capitol--the Aunties dug in. And as the nation erupted in rebellion over police violence against Black people, the Aunties supported and supplied Black Lives Matter protesters and organizations serving Black communities. Providing hundreds of thousands of homemade masks met an urgent public health need and expressed solidarity, care, and political action in a moment of social upheaval.
The Auntie Sewing Squad is a quirky, fast-moving, and adaptive mutual-aid group that showed up to meet a critical need. Led primarily by women of color, the group includes some who learned to sew from mothers and grandmothers working for sweatshops or as a survival skill passed down by refugee relatives. The Auntie Sewing Squad speaks back to the history of exploited immigrant labor as it enacts an intersectional commitment to public health for all. This collection of essays and ephemera is a community document of the labor and care of the Auntie Sewing Squad.
Reviews:
"During this terrible time, when people like me are being attacked, the Auntie Sewing Squad gives me heart. They have written a practical guide--including patterns--for making masks, making community, and making us safer. Thank you, Aunties."--Maxine Hong Kingston, author of The Fifth Book of Peace and winner of the National Book Award
"Decades later, these stories will shimmer as individual and collective testimonies of how a multigenerational, grassroots coalition of mask-making Aunties saved lives and celebrated life during a worldwide pandemic. This book sparks joy! It vivifies 'creativity as resistance' and everyday activism in ways that will add depth and breadth to the transdisciplinary study of social movements and social justice."--Vickie Nam, editor of YELL-Oh Girls! Emerging Voices Explore Culture, Identity, and Growing Up Asian American
About the Editors:
Mai-Linh K. Hong is Assistant Professor of Asian Diaspora and Asian American Literature at the University of California, Merced. Her research on refugee storytelling, race, and human rights has appeared in Amerasia, Verge, MELUS, Law, Culture, and the Humanities, and other journals and edited volumes. Since 2017, she has served as Co-chair of the Circle for Asian American Literary Studies.
Chrissy Yee Lau is Assistant Professor of History at California State University, Monterey Bay. She writes histories on race, gender, religion, and empire. She has published her research in the anthology Gendering the Trans-Pacific World and in a special issue on Asian American public history of Southern California Quarterly. She also researches and develops museum exhibitions for the public and digital exhibitions through the classroom.
Preeti Sharma is Assistant Professor of American Studies at California State University, Long Beach. Her scholarship on feminist theories of work, racial capitalism, service economies, and alternative labor organizing has appeared in the Journal of Asian American Studies, Society and Space, and the first national policy study on labor issues within the nail salon sector, a report she coauthored for the UCLA Labor Center.
About the Contributors:
Kristina Wong is an award-winning performance artist, comedian, writer, and elected representative in Koreatown, Los Angeles. She uses humor as a tool to highlight racial dynamics of our current times as well as provide a space for conversation and laughter.
Rebecca Solnit is a celebrated writer, historian, and activist. She is author of more than twenty books on feminism, western and Indigenous history, popular power, social change and insurrection, wandering and walking, hope and disaster.  
Grace J. Yoo is a sociologist and Professor of Asian American Studies at San Francisco State University. She is coauthor of the award-winning book Caring across Generations: The Linked Lives of Korean American Families. She recently taught the first summer undergraduate class on sewing with the Auntie Sewing Squad.