---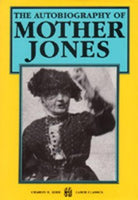 by Mother Jones
Charles H. Kerr Publishing
1996, paperback
SKU: 9780882861661
In this classic work of American nonfiction, the greatest labor organizer in US history details her three quarters century fight for labor's liberation, and her unswerving belief in industrial unionism as the key to that struggle.
In steel, railroading, metal mining, textiles, and above all, the coal industry, Mother Jones fought alongside strikers. Here too is the exciting story of her crusade against child labor, her innovative efforts to organize working women, her experiences in court and in jail, and her daring involvement in the Mexican Revolution.
Mother Jones' lively narrative—every page bristling with her characteristic humor, indignation, and uncommon sense—is a masterpiece of American radicalism.
This abundantly illustrated, new edition includes a host of valuable additions. In a new foreword, Meridel LeSueur vividly recalls her 1914 meeting with Mother Jones. IWW historian Fred Thompson's afterword provides useful background and fills in important gaps in Mother Jones' story. Also included are a Mother Jones article from 1901, a tribute by Eugene V. Debs, an introduction by Clarence Darrow, helpful annotations to the text, a full bibliography, and an index.