---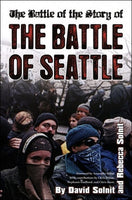 Edited by David Solnit and Rebecca Solnit
AK Press
2009, paperback
SKU: 9781904859635
"...A fascinating account of what really happened in Seattle." --Naomi Klein
"This book is a great read for any activist." --"The Progressive"
"If you think it's time we shut down the empire at the heart of the WTO with tactics so effectively used to weaken the WTO, pick up a copy of The Battle of the Story of the Battle of Seattle." --David Swanson
From dawn to dusk on November 30, 1999, tens of thousands of people shut down the World Trade Organization meeting, facing cops firing tear gas and rubber bullets, the National Guard, and the suspension of civil liberties. An unexpected history was launched from the streets of Seattle, one in which popular power would matter as much as corporate power, in which economics assumed center stage, and people began envisioning who else they could be and what else their economies and societies might look like.
The Battle of the Story of the Battle of Seattle explores how that history itself has become a battleground and how our perception of it shapes today's movements against corporate capitalism and for a better world. David Solnit recounts activist efforts to intervene in the Hollywood star-studded movie, "Battle in Seattle," and pulls lessons from a decade ago for today. Rebecca Solnit writes of challenging mainstream misrepresentation of the Seattle protests and reflects on official history and popular power. Core organizer Chris Dixon tells the real story of what happened during those five days in the streets of Seattle.
Profusely illustrated, with a reprint of the original 1999 Direct Action Network's Call to Action broadsheet including key articles by Stephanie Guilloud, Chris Borte, and Chris Dixon and a powerful introduction from Anuradha Mittal.
David Solnit lived and organized in Seattle in 1999 with the Direct Action Network, which the Art and Revolution Collective he was part of co-initiated. He has been a mass direct action organizer since the early '80s, and in the '90s became a puppeteer and arts organizer. He is the editor of Globalize Liberation: How to Uproot the System and Build a Better World and co-author, with Aimee Allison, of Army of None: Strategies to Counter Military Recruitment, End War and Build a Better World. He currently works as a carpenter in Oakland, California and organizes with Courage to Resist, supporting GI resisters, and with the Mobilization for Climate Justice West.
Rebecca Solnit is an activist, historian and writer who lives in San Francisco. Author of Men Explain Things to Me and A Paradise Built in Hell: The Extraordinary Communities that Arise in Disaster, her previous books include Storming the Gates of Paradise; A Field Guide to Getting Lost; Hope in the Dark: Untold Histories, Wild Possibilities; Wanderlust: A History of Walking; As Eve Said to the Serpent: On Landscape, Gender and Art; and River of Shadows: Eadweard Muybridge and the Technological Wild West (for which she received a Guggenheim, the National Book Critics Circle Award in criticism, and the Lannan Literary Award). A contributing editor to "Harper's," she frequently writes for the political site Tomdispatch.com. She has worked on antinuclear, antiwar, environmental, indigenous land rights and human rights campaigns and movements over the years.