---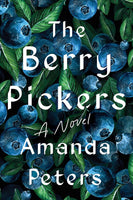 by Amanda Peters
Catapult
10/31/2023, hardcover
SKU: 9781646221950
July 1962. A Mi'kmaq family from Nova Scotia arrives in Maine to pick blueberries for the summer. Weeks later, four-year-old Ruthie, the family's youngest child, vanishes. She is last seen by her six-year-old brother, Joe, sitting on a favorite rock at the edge of a berry field. Joe will remain distraught by his sister's disappearance for years to come.
In Maine, a young girl named Norma grows up as the only child of an affluent family. Her father is emotionally distant, her mother frustratingly overprotective. Norma is often troubled by recurring dreams and visions that seem more like memories than imagination. As she grows older, Norma slowly comes to realize there is something her parents aren't telling her. Unwilling to abandon her intuition, she will spend decades trying to uncover this family secret.
For readers of The Vanishing Half and Woman of Light, this showstopping debut by a vibrant new voice in fiction is a riveting novel about the search for truth, the shadow of trauma, and the persistence of love across time.
Reviews:
"The thing about picking a handful of berries is that each one is different--some are sweet, some sour, some extra juicy. The Berry Pickers is just like a handful of berries. It's an unassuming novel filled with so much sweet, so much sour, so much juice. Reading this book, I was only ever hungry when it ended." --Morgan Talty, author of Night of the Living Rez
"A harrowing tale of Indigenous family separation... [Peters] excels in writing characters for whom we can't help rooting... With The Berry Pickers, Peters takes on the monumental task of giving witness to people who suffered through racist attempts of erasure like her Mi'kmaw ancestors. 'White folks been trying to take the Indian out of us for centuries, ' a character tells Norma. 'But now that you know, you gotta let people know.' Peters is letting people know." -- Erig Nguyen, The New York Times Book Review
About the Author:
Amanda Peters is a writer of Mi'kmaq and settler ancestry. Her work has appeared in the Antigonish Review, Grain Magazine, the Alaska Quarterly Review, the Dalhousie Review and Filling Station Magazine. She is the winner of the 2021 Indigenous Voices Award for Unpublished Prose and a participant in the 2021 Writers' Trust Rising Stars program. A graduate of the Master of Fine Arts Program at the Institute of American Indian Arts (IAIA) in Santa Fe, New Mexico, Amanda Peters has a Certificate in Creative Writing from the University of Toronto. She lives in the Annapolis Valley, Nova Scotia, with her fur babies, Holly and Pook.