---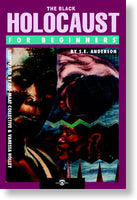 by S. E. Anderson, Illustrated by Cro-Matt Collective & Vanessa Holley
For Beginners
1995, Paperback
SKU: 9781934389034
Virtually anyone, anywhere knows that six million Jewish human beings were killed in the Jewish Holocaust. But how many African human beings were killed in the Black Holocaust - from the start of the European slave trade (c. 1500) to the Civil War (1865)? And how many were enslaved? The Black Holocaust, a travesty that killed millions of African human beings, is the most underreported major event in world history. A major economic event for Europe and Asia, a near fatal event for Africa, the seminal event in the history of every African American - if not every American! - and most of us cannot answer the simplest question about it.
Here is a sample of what you will get from the painstakingly researched, painfully honest The Black Holocaust For Beginners:
"The total number of slaves imported is not known. It is estimated that nearly 900,000 came to America in the 16th Century, 2.75 million in the 17th Century, 7 million in the 18th, and over 4 million in the 19th - perhaps 15 million in total. Probably every slave imported represented, on average, five corpses in Africa or on the high seas. The American slave trade, therefore, meant the elimination of at least 60 million Africans from their fatherland."
The Black Holocaust For Beginners - part indisputably documented chronicle, part passionately engaging narrative, puts the tragic event in plain sight where it belongs! The long overdue book answers all of your questions, sensitively and in great depth.  
S.E. Anderson, a veteran activist/educator, has been in the Black Liberation Movement on many levels. He is not only a mathematics professor, a Senior Editor (NOBO: Journal of African Dialogue), a founding member of the Network of Black Organizers and of The African Heritage Studies Association but also an essayist on a variety of topics related to black culture and liberation as well as science and technology. His political and cultural activism in his native New York City ranges from helping to fund the New York City Algebra Project to being a founding member of the New York City Coalition For Excellence In Black Education. As a young activist, Anderson was a member of the Student Nonviolent Coordinating Committee (SNCC) and helped found the Black Panther Party in Harlem in 1966. He has been active in the African Liberation Support Movement since 1964 and participated in the historic Black student/community struggle against Columbia University's encroachment into Harlem in 1968. Ironically, almost twenty years later, he became a Columbia University Revson Fellow (1986-7). In addition, he has taught mathematics, science, and Black Studies at Queens College. Anderson became one of the first Black Studies Chairs, when in 1969 he accepted the challenge at Sarah Lawrence College to create a department that included mathematics and the natural sciences as part of a Black Studies Curriculum.