---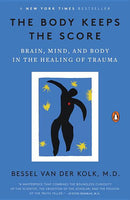 by Bessel van der Kolk
Penguin Books
9/8/2015, paperback
SKU: 9780143127741
A pioneering researcher transforms our understanding of trauma and offers a bold new paradigm for healing in this New York Times bestseller
Trauma is a fact of life. Veterans and their families deal with the painful aftermath of combat; one in five Americans has been molested; one in four grew up with alcoholics; one in three couples have engaged in physical violence. Dr. Bessel van der Kolk, one of the world's foremost experts on trauma, has spent over three decades working with survivors. In The Body Keeps the Score, he uses recent scientific advances to show how trauma literally reshapes both body and brain, compromising sufferers' capacities for pleasure, engagement, self-control, and trust. He explores innovative treatments--from neurofeedback and meditation to sports, drama, and yoga--that offer new paths to recovery by activating the brain's natural neuroplasticity. Based on Dr. van der Kolk's own research and that of other leading specialists, The Body Keeps the Score exposes the tremendous power of our relationships both to hurt and to heal--and offers new hope for reclaiming lives.
Reviews:
"War zones may be nearer than you think, as the 25% of US citizens raised with alcoholic relatives might attest. Psychiatrist Bessel van der Kolk argues, moreover, that severe trauma is 'encoded in the viscera' and demands tailored approaches that enable people to experience deep relief from rage and helplessness. In a narrative packed with decades of findings and case studies, he traces the evolution of treatments from the 'chemical coshes' of the 1970s to neurofeedback, mindfulness and other nuanced techniques." -- Nature
"The trauma caused by childhood neglect, sexual or domestic abuse and war wreaks havoc in our bodies, says Bessel van der Kolk in The Body Keeps the Score. . . . Van der Kolk draws on 30 years of experience to argue powerfully that trauma is one of the West's most urgent public health issues. . . . Packed with science and human stories, the book is an intense read. . . . [T]he struggle and resilience of his patients is very moving."
--Shaoni Bhattacharya, New Scientist
About the Author:
Bessel van der Kolk, M.D., is the founder and medical director of the Trauma Center in Brookline, Massachusetts. He is also a professor of psychiatry at Boston University School of Medicine and director of the National Complex Trauma Treatment Network. When he is not teaching around the world, Dr. van der Kolk works and lives Boston.