---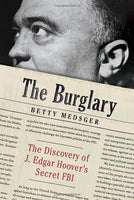 by Betty Medsger
Knopf Publishing
2014
SKU: 9780307962959 / 9780804173667
In late 1970, a mild-mannered Haverford College physics professor privately asked a few people this question: "What do you think of burglarizing an FBI office?" In remarkable detail and with astonishing depth of research, Betty Medsger reveals the never-before-told full story of the history-changing break-in at the Media, Pennsylvania, FBI offices. Through their exploits, a group of unlikely activists exposed the shocking truth that J. Edgar Hoover was operating a shadow Bureau engaged in illegal surveillance and harassment of the American people.
The Burglary brings the activists, who have kept their secret for forty-three years, into the public eye for the first time—including, new to this edition, the recent discovery of the eighth and final member of the team. The burglars' story of personal sacrifice and civil disobedience is a vital episode in the American whistle-blower tradition that includes the Pentagon Papers, Watergate's Deep Throat, and, most recently, Edward Snowden and the NSA.
Reviews:
"Rich and valuable." —David J. Garrow, The Washington Post
 "Impeccably researched, elegantly presented, engaging…For those seeking a particularly egregious example of what can happen when secrecy gets out of hand, The Burglary is a natural place to begin." —David Oshinsky, New York Times Book Review
"A cinematic account . . . By turns narrative and expository, The Burglary provides ample historical context, makes telling connections and brings out surprising coincidences . . . makes a powerful argument for moral acts of whistle-blowing in the absence of government action." —San Francisco Chronicle
Betty Medsger first wrote about the Media files as a reporter at The Washington Post in 1971. She is a founding member of Investigative Reporters and Editors (IRE) and founder of the Center for Integration and Improvement of Journalism at San Francisco State University, where she was chair of the Department of Journalism. She is the author of Women at Work, Framed: The New Right Attack of Chief Justice Rose Bird and the Courts and Winds of Change: Changes Confronting Journalism Education. She lives in New York with her husband, John T. Racanelli.