---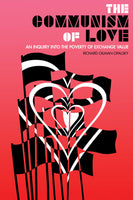 by Richard Gilman-Opalsky
AK Press
12/15/2020, paperback
SKU: 9781849353915
A reminder of the most powerful and sustaining force in our lives. And that it's under constant threat.
Exploring the meanings and powers of love from ancient Greece to the present day, Richard Gilman-Opalsky argues that what is called "love" by the best thinkers who have approached the subject is in fact the beating heart of communism--understood as a way of living, not as a form of government. Along the way, he reveals with clarity that the capitalist way of assigning value to things is incapable of appreciating what humans value most. Capitalism cannot value the experiences and relationships that make our lives worth living and can only destroy love by turning it into a commodity.
The Communism of Love follows the struggles of love in different contexts of race, class, gender, and sexuality, and shows how the aspiration for love is as close as we may get to a universal communist aspiration.
Reviews:
"In this beautifully crafted book, Richard Gilman-Opalsky persuasively uncovers and explores an 'irreducibly antagonistic relationship of love to capitalist exchange value.' Refusing to submit to the all-too-common reduction of love to sex, he points to the emergence of communist love during moments of uprising and resistance. In so doing, he illuminates the future of revolution."--George Katsiaficas, activist and author of The Subversion of Politics
"Fabulous! A wonderful idea, superbly carried out. After the horrors of the 'communism' of the last century, we need to talk of a Communism of Love, work out what it means and find the paths we make by walking in that direction. Against the tick-tock of capitalist doom, we urgently need to reinvent-rediscover our own tradition of going in the opposite direction, towards a Communism of Love. This book speeds us on our way."--John Holloway, author of We Are the Crisis of Capital
About the Author:
Richard Gilman-Opalsky is Professor of Political Theory and Philosophy in the Department of Political Science at the University of Illinois at Springfield. Gilman-Opalsky's research focuses on the history of political philosophy, contemporary social theory, Marxism, capitalism, autonomist politics, critical theory, revolt and revolution. He is the author of five books: Specters of Revolt, Precarious Communism, Spectacular Capitalism, Unbounded Publics, and Riotous Epistemology, and co-editor of Against Capital in the Twenty-First Century. Gilman-Opalsky has lectured widely throughout the U.S., Europe, and China and was named University Scholar 2018-2019 at the University of Illinois.