---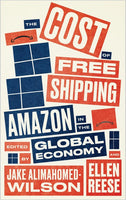 Edited by Jake Alimahomed-Wilson and Ellen Reese
Pluto Press
9/20/2020, paperback
SKU: 9780745341484
Amazon is the most powerful corporation on the planet and its CEO, Jeff Bezos, has become the richest person in world history. Its dominance has reshaped consumer expectations and the global economy itself: we live in the age of 'Amazon Capitalism'.
'One-click' instant consumerism and the immense variety of available products have made Amazon a worldwide household name, with over 60% of US households subscribing to Amazon Prime. In turn, these subscribers are thoroughly surveilled by the corporation as they turn over their private information to Amazon's databases. Going beyond e-commerce, Amazon is also one of the largest logistics companies in the world, changing the way goods are manufactured and distributed, resulting in weakened unions and lowered labor standards. More recently, Amazon has also become the world's largest provider of cloud-computing services and home surveillance systems, not to mention the ubiquitous Alexa.
With a wide variety of cutting-edge analyses, this book looks at the many dark facets of the corporation, including automation, surveillance, tech work, workers' struggles, algorithmic challenges, the disruption of local democracy and much more. The Cost of Free Shipping shows how Amazon represents a fundamental shift in global capitalism that we should name, interrogate and be primed to resist.
About the Editors:
Jake Alimahomed-Wilson is Professor of Sociology at California State University, Long Beach. He is the author of Solidarity Forever? Race, Gender, and Unionism in the Ports of Southern California (Lexington Books, 2016), and the editor of Choke Points (Pluto, 2018).
Ellen Reese is Professor of Sociology and Chair of the Labour Studies program at UC Riverside. She is co-editor of The Wages of Empire: Neoliberal Policies, Repression, and Women's Poverty (2007, Paradigm Publishers) and co-author of The World Social Forums and the Challenges of Global Democracy, 2nd Edition (2014, Paradigm Publishers).