---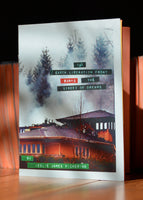 by Leslie James Pickering
3/8/2020, staple-bound booklet
SKU: na
This booklet details the Earth Liberation Front's 2008 arson of the Seattle Street of Dreams luxury home show development.
The $7 million fire completely destroyed four out of five of the home show McMansions, which were built atop a watershed under Street of Dream's 2007 theme of "green and sustainable building."
Written by former Earth Liberation Front spokesperson, Leslie James Pickering shortly after the fires were extinguished, this article has been reformatted into this 16-page, quarter-sized zine, and printed on salvaged blue, yellow, and pink paper. Only 126 of these were made and they're only available through Burning Books.