---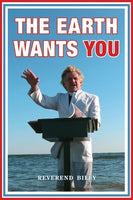 by Reverend Billy Talen
City Lights
2016, paperback
SKU: 9780872867079
A motivational for earth activists, inspired visions and a call to arms for a wild, creative, Earth-led revolution.
Brothers and Sisters! We are fast approaching a time when our "normal" way of life will no longer be possible. Our old life will disappear like the coastal cities and the black rhinoceros, casualties of climate change. Civic life in the time of climate chaos - floods, fire, drought, and superstorms - will require intensive policing and social control. Governing bodies will transform and democracy will fall by the wayside; the banks and the power stations will be heavily defended; whole populations will be incarcerated. While this might seem like dystopian fiction, it's actually a description of life as it's lived in much of the world now, and will become the norm unless we can stop it. When the ocean is pouring in through the door, will we find the will to act before we drown?
This book is a call for action as extreme as the weather. It's meant to radicalize those who didn't think the climate crisis would require any risky personal commitment. The Earth revolution is upon us, and it must be as wild and as unpredictable as life on Earth itself! Earth-a-lujah!
Reverend Billy and his choir of singing activists are on the front lines of creative direct action, and here they offer up a distillation of the passion, the inspiration, and the hopes for love and survival that fuel their work. In a mix of essays, polemics, surrealist scenarios, and news flashes from the frontlines, Reverend Billy answers the question, "What are we to do?" with a resounding chorus of "Take Action NOW!"
Reviews:
"You must check out the newest from my favorite transcendent and down to earth preacher." --Laurie Anderson, artist, musician
"An inspired sermon delivered from the frontline of environmental activism, Reverend Billy's call to action is at once sobering and encouraging. We have fucked up really badly, but the ability to see it--no matter how much despair it creates--is the first and hardest step toward fixing it. Talen's wit, poetry, and compassion allow us to look at what we've done, without losing faith that we can yet change our ways.--Douglas Rushkoff, author, Throwing Rocks at the Google Bus and Present Shock
"Combining the situationalist flair of Abbie Hoffman with an evangelist's tireless zeal, Reverend Billy's efforts against mindless consumerism and corporate greed have added the oxygen of publicity to flames of a number of worthy causes, as well as reintroducing a much-needed sense of fun to Manhattan's somber and overregulated plazas." --Publishers Weekly
"[Reverend Billy has] the zeal of a street-corner preacher and the schmaltz of a street-corner Santa."--The New York Times
"A moving motivational for earth activists. Reverend Billy strikes again to help us ready ourselves for the times ahead, find solace in the persistent forcefield of life and living beings, and build courage to reorient our own life and life's work. Thanks Rev--I'm ready to change faster."  --Severine von Tscharner Fleming, Director, The Greenhorns