---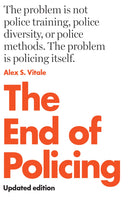 by Alex S. Vitale
Verso Books
12/7/2021, paperback

SKU: 9781839763786

The best-selling bible of the movement to defund the police in an updated edition
The massive uprising that followed the police killing of George Floyd in the summer of 2020-- by some estimates the largest protests in US history--thrust the argument to defund the police to the forefront of international politics. That case had been put persuasively a few years earlier in The End of Policing by Alex Vitale, now a leading figure in the urgent public discussion over policing and racial justice.
The central problem, Vitale demonstrates, is the dramatic expansion of the police role over the last forty years. Drawing on firsthand research from across the globe, he shows how the implementation of alternatives to policing--such as drug legalization, regulation, and harm reduction instead of the policing of drugs--has led to reductions in crime, spending, and injustice.
This updated edition includes a new introduction that takes stock of the renewed movement to challenge police impunity and shows how we move forward, evaluating protest, policy, and the political situation.
Reviews:
"Deeply researched, but also vibrantly and accessibly written, The End of Policing is essential reading for anyone wishing to understand the dire state of policing today. Alex Vitale shows compellingly that as long as we ask the police to shore up a fundamentally unequal and dysfunctional social order, superficial 'reforms' won't do much to help. And he offers concrete alternatives aimed at restoring communities and getting police out of the business of trying to contain social problems that they cannot--and should not--control." --Elliott Currie, Professor, University of California, Irvine, author of Crime and Punishment in America
"Challenging standard accounts of how to reform policing, Alex Vitale argues that true safety demands directing resources away from police and prisons and towards economic development, education, and drug treatment. Urgent, provocative, and timely, The End of Policing will make you question most of what you have been taught to believe about crime and how to solve it." --James Forman Jr., Professor, Yale Law School and author of Locking Up Our Own: Crime and Punishment in Black America
" The End of Policing combines the best in academic research with rhetorical urgency to explain why the ordinary array of police reforms will be ineffective in reducing abusive policing. Alex Vitale shows that we must move beyond conceptualizing public safety as interdiction, exclusion, and arrest if we hope to achieve racial and economic justice." --Ruth Wilson Gilmore, Professor, CUNY Graduate Center, Co-Founder of Critical Resistance, author of Golden Gulag
About the Author:
Alex S. Vitale is Professor of Sociology and Coordinator of the Policing and Social Justice Project at Brooklyn College and a Visiting Professor at London Southbank University. He has spent the last thirty years writing about policing and consults both police departments and human rights organizations internationally. His essays have appeared in the New York Times, Washington Post, Guardian, Nation, Jacobin, Fortune, and USA Today. He has also appeared on CNN, MSNBC, CNBC, NPR, PBS, Democracy Now!, Vice News, and the Daily Show with Trevor Noah.