---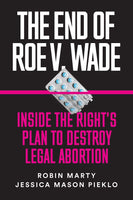 by Robin Marty and Jessica Mason Peiklo
Ig Publishing
9/17/2019, paperback
SKU: 9781632460851
In the past decade, right-wing efforts to end legal abortion in the United States have reached a fever pitch, with anti-abortion legislation being introduced in several "red"--and even some "purple"--states. This war on abortion has had a chilling effect on women's reproductive health, making abortion accessible in name only in multiple parts of the country due to a lack of clinics, high cost, extensive waiting periods, and other issues. And if Roe v. Wade is overturned, which is now quite possible with a conservative Supreme Court, half of the states in the U.S. will likely make abortion completely illegal within their borders.
The End of Roe v. Wade examines the systematic destruction of legal abortion on a state by state basis, as well as detailing the Trump administration's unprecedented efforts to end access to abortion and contraception on a federal level. This timely and urgent book also offers a harrowing glimpse into what a post-Roe America will look like, previewing the next major battle over abortion rights--pitting those who chose to end their pregnancies outside of the legal medical system against those who will prosecute them.
About the Author:
Robin Marty is a writer and reporter who covers abortion access and the pro-choice and pro-life movement. She has spent the last decade tracking abortion restrictions, visiting current and former clinic sites and interviewing activists on both sides of the abortion divide. Marty's work can be found at Cosmopolitan, Politico and other outlets. She is also the author of Handbook for a Post-Roe America.
Jessica Mason Pieklo is the Vice President, Law and the Courts at Rewire.News, an award-winning, non-profit daily online publication devoted to evidence-based reporting on reproductive and sexual health, rights, and justice, and the intersections of racial, environmental, immigration, and economic justice. The former Assistant Director of the Health Law Institute at Hamline University School of Law, Pieklo has frequent appearances on Democracy! Now and is often quoted by the Associated Press and Reuters on the legal implications of state-level anti-abortion restrictions.