---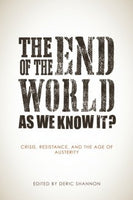 by Deric Shannon
AK Press
2014, paperback
SKU: 9781849351867
The End of the World as We Know It? explores the origins and effects of the capitalist crisis that began in 2008. It moves on to examine the responses of both the dispossessed and the ruling classes to the catastrophe, giving special attention to student mobilizations around the world. Weaving together a global network of stories and analyses, editor Deric Shannon creates an outline of what real and effective opposition to the forces that are destroying our lives and our planet might look like. From solidarity networks to revolutionary unionism, student strikes, and ever-new forms of state and corporate control, The End of the World as We Know It? is a guide to the future of anticapitalist struggle
Reviews:
"Highly recommended reading for the contemporary dissident."--Ruth Kinna, author of A Beginner's Guide to Anarchism
"The End of the World As We Know It? will be an invaluable resource for students of political economy in our momentous times.... [it] offers an indispensable array of perspectives on the crisis in contemporary global capitalism, with an eye toward dismantling it."--Alessandro De Giorgi, author of Re-thinking the Political Economy of Punishment
"A must-read for those interested in navigating the turbulent waters of economic uncertainty, political instability, and global resistance. The contributors not only provide clear and accessible analyses but also, and more importantly, a range of thought-provoking proposals for change which challenge an increasingly unequal and unsustainable status quo." --Nathan Jun, Author of Anarchism and Political Modernity
"There is nothing more important for anticapitalists than providing sharp analysis and relevant answers to the problems of our time, rather than merely propagating noble ideals. Here is a book that lives up to the task." --Gabriel Kuhn, editor of All Power to the Councils!: A Documentary History of the German Revolution of 1918-1919. "
"The contributions in The End of the World As We Know It provide us with important lessons concerning the economic crisis and the attempts of working people to create a world worth living in." --Andrej Grubacic, author of Don't Mourn, Balkanize! Essays After Yugoslavia
Deric Shannon received his B.A. and M.A. in Sociology from Ball State University and his PhD in Sociology from the University of Connecticut, and currently he is an Associate Professor at Quinebach Valley Community College. He authored "Anarchism, Communism, and Socialism" in the Encyclopedia of Modern Revolutions (James Defronzo, ed.) and is co-editor of Contemporary Anarchist Studies: An Introductory Reader of Anarchy in the Academy (Routeledge).