---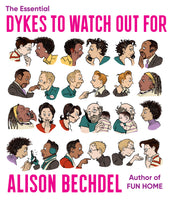 by Alison Bechdel
Mariner Books
9/1/2020, paperback
SKU: 9780358424178
Now in paperback for the first time, the definitive collection of Fun Home author Alison Bechdel's beloved comic strip, Dykes to Watch Out For
Settle in to this wittily illustrated soap opera (Bechdel calls it "half op-ed column and half endless serialized Victorian novel") of the lives, loves, and politics of Mo, Lois, Sydney, Sparrow, Ginger, Stuart, Clarice, and the rest of the cast of cult-fav characters. Most of them are lesbians, living in a midsize American city that may or may not be Minneapolis. Bechdel's brilliantly imagined counter cultural band of friends--academics, social workers, bookstore clerks--fall in and out of love, negotiate friendships, raise children, switch careers, and cope with aging parents.
Bechdel fuses high and low culture--from foreign policy to domestic routine, hot sex to postmodern theory--in a serial graphic narrative "suitable for humanists of all persuasions."
About the Author:
Alison Bechdel is the author of the best-selling memoirs Fun Home and Are You My Mother?, and the writer and artist behind the comic strip Dykes to Watch Out For. Bechdel has been the recipient of a MacArthur "genius" grant, was guest editor of The Best American Comics 2011, and has drawn comics for Slate, McSweeney's, Entertainment Weekly, and the New York Times Book Review.