---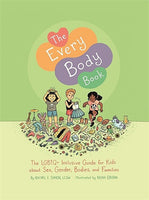 by Rachel E. Simon, Illustrated by Noah Grigni
Jessica Kingsley Publishers
6/18/2020, hardcover
SKU: 9781787751736
This vibrant and beautifully illustrated book teaches children sex, gender and relationships education in a way that is inclusive of all sexual orientations and gender identities. Covering puberty, hormones, pregnancy, consent, sex, babies, relationships, and families, it uses gender-neutral language throughout and celebrates diversity in all its forms, including race, ethnicity, faith, bodies, gender, and sexuality. For use with children aged 8-12, it will help answer their questions and spark open discussion with parents, carers, and teachers.
With informative illustrations and further resources and a guide for adults, The Every Body Book is the ultimate sex, gender, and relationships education resource for children.
Target Age: 7 to 12
Reviews:
A groundbreaking book and invaluable resource for families navigating those first conversations around puberty, sex, consent and gender, The Every Body Book has given "the talk" an inclusive makeover. This book is a must read for parents and caregivers of children of all gender identities and expressions - along with anyone who wants their children to learn the value of kindness, respect and diversity.--Jo Hirst, Author of A House for Everyone
This book is fantastic! It's inclusive, medically accurate, gender affirming, body positive, and comprehensive in its delivery of the education young people need to understand bodies, identities, relationships, and sexual health. It delivers information using a tone that invites young people's curiosities and normalizes their unique experiences, coupled with beautifully diverse illustrations. This book is a must-have for youth, families, schools, and professionals working with young people.--Melissa Carnagey, founder of Sex Positive Families
About the Author:
Rachel E. Simon is a psychotherapist and educator who specialises in gender and sexuality and runs her private practice in Philadelphia, PA. She has worked in partnership with the Children's Hospital of Philadelphia Gender and Sexuality Development Clinic, Mazzoni Center, and Walnut Psychotherapy Center.