---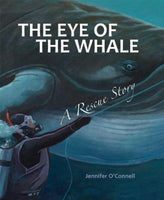 by Jennifer O'Connell
Tilbury House Publishers
2014, paperback
SKU: 9780884483953
In The Eye of the Whale, by author/illustrator Jennifer O'Connell, on a cool December morning near San Francisco, a distress call was radioed to shore by a local fisherman. He had discovered a humpback whale tangled in hundreds of yards of crab-trap lines, struggling to stay afloat. A team of volunteers answered the call, and four divers risked their lives to rescue the enormous animal. It was the first successful whale disentanglement performed off the West Coast of the United States and prompted a rare and remarkable demonstration of animal behavior.
This celebrated story, beautifully depicted in Jennifer O'Connell's mesmerizing paintings, will make you wonder about animal emotions and the unique connections we can have with other animals, even whales.
To research The Eye of the Whale, Jennifer traveled to San Francisco where she met Captain Mick Menigoz and rode his rescue boat, Superfish, out into the Pacific Ocean to the area where the events in the book took place. This experience fueled her inspiration as she created the images and words of this extraordinary story.