---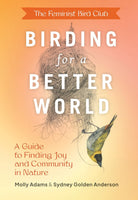 by Molly Adams and Sydney Golden Anderson
Princeton Architectural Press
9/5/2023, paperback
SKU: 9781797223339
A celebration of birding as an inclusive activity for everyone, from organizing members of the Feminist Bird Club.
Birding is for everyone. That is the sentiment on which the Feminist Bird Club (FBC) was founded in 2016 and the spirit that is celebrated in this original and timely book. In these pages, Molly Adams, FBC founder, and Sydney Golden Anderson offer readers:
A celebration of birding and the outdoors
Examples of how inclusive, affirming, and joyful an activity birding can be
Awareness of the crucial inclusivity issues facing birding communities today
Related ideas for radical inclusivity and how to break down barriers around birding for marginalized communities
Information on the ecological challenges facing birds and all life on earth including habitat loss and warming temperatures
Actionable steps everyone can take toward environmental justice
Journaling prompts throughout to offer moments of self-reflection
Ninety original illustrations from the FBC community
The Feminist Bird Club's Birding for a Better World illustrates how anyone can engage in the universally available activity of birding, and support equity and environmental justice at the same time, making an excellent gift or self-purchase for seasoned birders and beginners alike, as well as for nature lovers, social justice activists, and anyone seeking actionable information about accessibility and inclusivity in the birding community.
Reviews: 
"Through the Feminist Bird Club, Molly Adams and Sydney Golden Anderson have walked the walk of inclusive birding; in Birding for a Better World, they talk the talk--this book got me to examine overlooked injustices, in and out of birding." -- Christian Cooper, author of Better Living Through Birding and host/consulting producer of National Geographic's Extraordinary Birder TV show
"I'll never forget the two young women of color who came to a book event of mine and told me I'd inspired them to go birding, but also that the organized field trip they went on was so alienating they weren't sure they would return. This book is for them, and for all of us. It's a beautiful package for a beautiful idea: that a shared love of birds could also be a collective learning experience in social and ecological justice." -- Jenny Odell, author of How to Do Nothing: Resisting the Attention Economy
About the Author:
Molly Adams is the founder of the Feminist Bird Club and former advocacy and outreach manager at NYC Audubon. She completed a BA at Pratt Institute and an MA in marine conservation and policy at Stony Brook University. They live among the Catskill Mountains in New York. Her favorite birds are nightjars.
Sydney Golden Anderson is a maker, grower, and friend of pollinators. She earned a BS in ecology from UNC Asheville and an MA in community-based education from the School of the Art Institute of Chicago. She is the senior community habitat coordinator for the National Wildlife Federation and lives in the foothills of Colorado.