---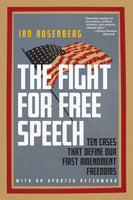 by Ian Rosenberg
New York University Press
5/16/2023, paperback
SKU: 9781479825912
A user's guide to understanding contemporary free speech issues in the United States
Americans today are confronted by a barrage of questions relating to their free speech freedoms. What are libel laws, and do they need to be changed to stop the press from lying? Does Colin Kaepernick have the right to take a knee? Can Saturday Night Live be punished for parody? While citizens are grappling with these questions, they generally have nowhere to turn to learn about the extent of their First Amendment rights.
The Fight for Free Speech answers this call with an accessible, engaging user's guide to free speech. Media lawyer Ian Rosenberg distills the spectrum of free speech law down to ten critical issues. Each chapter in this book focuses on a contemporary free speech question--from student walkouts for gun safety to Samantha Bee's expletives, from Nazis marching in Charlottesville to the muting of adult film star Stormy Daniels-- and then identifies, unpacks, and explains the key Supreme Court case that provides the answers. Together these fascinating stories create a practical framework for understanding where our free speech protections originated and how they can develop in the future. As people on all sides of the political spectrum are demanding their right to speak and be heard, The Fight for Free Speech is a handbook for combating authoritarianism, protecting our democracy, and bringing an understanding of free speech law to all.
Reviews:
"A deep dive into 10 precedent-setting legal actions that helped define the scope--and limits--of the First Amendment... Essential reading for journalists, political activists, and ordinary citizens alike." -- Kirkus Reviews, starred review
"Rosenberg presents challenging, provocative material in an engaging manner... Anyone interested in the history of free speech and the Supreme Court will enjoy this extensively researched book." -- Library Journal
"The Fight for Free Speech is a wonderful guide to our free speech rights, serving as an engaging introduction for all readers, and as an illuminating source of insights even for those with expertise in First Amendment law." -- Nadine Strossen, Former President, American Civil Liberties Union, and author of HATE: Why We Should Resist it With Free Speech, Not Censorship
About the Author:
Ian Rosenberg is Assistant Chief Counsel at ABC, Inc., where he has provided pre-broadcast counsel for ABC News clients on libel, newsgathering, intellectual property, and FCC regulatory issues since 2003. He graduated with distinction from the University of Wisconsin-Madison, and magna cum laude from Cornell Law School. Rosenberg began his legal career clerking in the Eastern District of New York, and then working as a litigation associate at Cahill Gordon & Reindel. He is also an Emmy-nominated documentary filmmaker and teaches media law at Brooklyn College.