---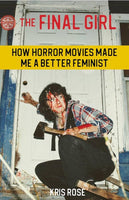 by Kris Rose

Microcosm Publishing
7/1/2021, staple-bound
SKU: 9781648411106
Kris Rose and her step-sister grew up watching horror movies together. The Exorcist, The Evil Dead, The Texas Chainsaw Massacre, A Nightmare on Elm Street, Carrie, Friday the 13th, Scream, Hellraiser, and so many more left their indelible mark on her young mind.
"For a girl whose life was not perfect, horror was a reassurance that darkness was a normal part of life. It was possible to survive the absolute worst, if you learned a few valuable lessons from one of the most well-known archetypes of modern horror: The Final Girl." Rose takes us on a fun, smart, sassy tour through horror movies of the 1980s, analysing the character tropes and celebrating the bad-asses who may not have been believed but fought to stay alive until the bitter end.
About the Author:
Kris Rose is a native of Tulsa Oklahoma. She was active in the punk scene from the mid 90s until 2019 when she sold her independent bookstore, Bound for Glory Books. She has also travelled extensively across the United States by train (hopping and Amtrak), hitchhiking, Greyhound and tour van. She currently resides in Tulsa with her husband and many pets. Her articles have appeared in the Tulsa Voice where she most memorably interviewed Wanda Jackson. Several of her short stories and essays have been published by both Red Dirt Press and Microcosm Publishing. In her spare time she lectures about her love of horror movies and their influence on her own brand of feminism.