---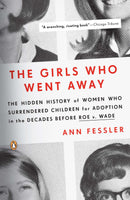 by Ann Fessler
Penguin Books
07/01/2007, paperback
SKU: 9780143038979
A powerful and groundbreaking revelation of the secret history of the 1.5 million women who surrendered children for adoption in the several decades before Roe v. Wade
In this deeply moving work, Ann Fessler brings to light the lives of hundreds of thousands of young single American women forced to give up their newborn children in the years following World War II and before Roe v. Wade. The Girls Who Went Away tells a story not of wild and carefree sexual liberation, but rather of a devastating double standard that has had punishing long-term effects on these women and on the children they gave up for adoption. Based on Fessler's groundbreaking interviews, it brings to brilliant life these women's voices and the spirit of the time, allowing each to share her own experience in gripping and intimate detail. Today, when the future of the Roe decision and women's reproductive rights stand squarely at the front of a divisive national debate, Fessler brings to the fore a long-overlooked history of single women in the fifties, sixties, and early seventies.
In 2002, Fessler, an adoptee herself, traveled the country interviewing women willing to speak publicly about why they relinquished their children. Researching archival records and the political and social climate of the time, she uncovered a story of three decades of women who, under enormous social and family pressure, were coerced or outright forced to give their babies up for adoption. Fessler deftly describes the impossible position in which these women found themselves: as a sexual revolution heated up in the postwar years, birth control was tightly restricted, and abortion proved prohibitively expensive or life endangering. At the same time, a postwar economic boom brought millions of American families into the middle class, exerting its own pressures to conform to a model of family perfection. Caught in the middle, single pregnant women were shunned by family and friends, evicted from schools, sent away to maternity homes to have their children alone, and often treated with cold contempt by doctors, nurses, and clergy.
The majority of the women Fessler interviewed have never spoken of their experiences, and most have been haunted by grief and shame their entire adult lives. A searing and important look into a long-overlooked social history, The Girls Who Went Away is their story. 
Reviews:
"Journalism of the first order, moving and informative in equal measure." -- San Francisco Chronicle 
"It would take a heart of stone not to be moved by the oral histories of these women and by the courage and candor with which they express themselves." -- The Washington Post
About the Author:
Ann Fessler is a Professor Emerita at Rhode Island School of Design, where she taught from 1993 to 2018. She has spent nearly four decades creating work that deals with the stories of women and the impact that myths, stereotypes, and mass media images have on their lives and intimate relationships. She has spent the last twenty-five years bringing the first-person narratives and hidden history of adoption into the public sphere through her writing and visual works. She turned to the subject after being approached by a woman who thought Fessler might be the daughter she had surrendered forty years earlier. Though the woman was not her mother, Fessler, an adoptee, was profoundly moved by the experience. The conversation that ensued shifted the focus of her work to adoption and she has since produced three films, several audio and video installations, and written The Girls Who Went Away.