---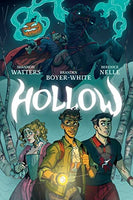 by Shannon Watters and Branden Boyer-White, Illustrated by Berenice Nelle
Boom Box
10/4/2022, paperback
SKU: 9781684158522
Sleepy Hollow and queer romance meet in this coming-of-age tale from the co-creator of Lumberjanes!
Isabel "Izzy" Crane and her family have just relocated to Sleepy Hollow, the town made famous by--and obsessed with--Washington Irving's legend of the Headless Horseman. But city slicker-skeptic Izzy has no time for superstition as she navigates life at a new address, a new school, and, with any luck, with new friends. Ghost stories aren't real, after all.... Then Izzy is pulled into the orbit of the town's teen royalty, Vicky Van Tassel (yes, that Van Tassel) and loveable varsity-level prankster Croc Byun. Vicky's weariness with her family connection to the legend turns to terror when the trio begins to be haunted by the Horseman himself, uncovering a curse set on destroying the Van Tassel line. Now, they have only until Halloween night to break it--meaning it's a totally inconvenient time for Izzy to develop a massive crush on the enigmatic Vicky. Can Izzy's practical nature help her face the unknown--or only trip her up?
Target Age: 13 to 17
Reviews:
"A charming story about ghosts, demons, family curses, and figuring out who you want to be; Hollow is a creepy treat. Plus, it has a talking pumpkin, which is something all the best books have." -- Ryan North, The Unbeatable Squirrel Girl

"Finally, a book that lets me live in Halloween all year long but also give me the queer adventure I've been searching for. A delightful, spooky read!" -- Tillie Walden, On a Sunbeam
About the Contributors:
Shannon Watters is a senior editor at BOOM! Studios and head of its critically-acclaimed YA imprint BOOM! Box. She is also the co-creator and co-writer of the award-winning comic book series Lumberjanes. She lives in Los Angeles.

Branden Boyer-White is short fiction writer, whose work has appeared in places like Alaska Quarterly Review, Hunger Mountain, Third Coast, and Anthropoid, and been honored with a grant from the Money For Women/Barbara Deming Memorial Fund, the A Room of her Own Foundation's Orlando Prize, and as a runner-up for the inaugural Miami Book Fair/de Groot Prize.