---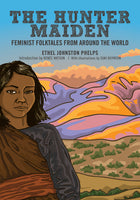 by Ethyl Johnston Phelps
Feminist Press
2017, hardcover
SKU: 9781558614345
The Hunter Maiden is the final volume in the Feminist Press' four volume reissue of classic children's tales. The title story, "The Hunter Maiden" is a Southwestern Native American story where a resourceful daughter proves herself against both cultural double standards and malicious winter spirits.
All of these high-spirited adventures feature a diverse cast of female protagonists handling adversity and injustice, from battling evil wizards in Russia to outsmarting tricky demons in South Africa. While many of the stories have been lost to mainstream media, these heroines are undeniably familiar to any reader lucky enough to know a smart, determined girl today.
The Hunter Maiden is the second book of stories taken from The Maid of the North, which has been out of print and unavailable for a number of years. The new series includes distinct elements (brown ink, hand-drawn illustrations) that retain a timeless and beautiful aesthetic.
The series, which includes Tatterhood, Kamala, and Sea Girl, is ideal for progressive parents interested in sharing nonsexist folklore with their children. 
About the Contributors:
Ethel Johnston Phelps (1914-1984) held a master's degree in medieval literature, coedited a Ricardian journal, and published several articles on fifteenth-century subjects. She compiled two anthologies of feminist folktales from around the world, Tatterhood and The Maid of the North.
Renee Watson's books include This Side of Home, nominated for the Best Fiction for Young Adults by the ALA; Harlem's Little Blackbird: The Story of Florence Mills, nominated for the NAACP Image Award in children's literature; and A Place Where Hurricanes Happen, featured on NBC Nightly News. She is on the Council of Writers for the National Writing Project and is a team member of We Need Diverse Books. She currently teaches courses on writing for children at University of New Haven and Pine Manor College. In the summer of 2016, she launched I, Too, Arts Collective, a nonprofit committed to nurturing underrepresented voices in the creative arts. She also launched the #LangstonsLegacy Campaign to raise funds to lease the Harlem brownstone where Langston Hughes lived and created during the last twenty years of his life. 
Suki Boynton is an artist, illustrator, and the senior graphic designer at the Feminist Press. She is a graduate of Connecticut College with a BA in art history and has a degree in graphic design from the Art Institute of Charleston, SC. She currently lives in Newark, NJ.